FREDERICK, MD- The Frederick County State's Attorney's Office is marking the one-year anniversary since the inception of the Evidence Review Unit (ERU).  The ERU, which is comprised of four investigators and a supervisory Assistant State's Attorney, is responsible for identifying, requesting, and reviewing all digital audio/video evidence generated by police during the course of a criminal investigation. Police body-worn cameras (BWCs), vehicle dash cameras, cellular phone videos and data, recorded witness interviews, and other audio-visual recordings are all examples of digital evidence the ERU reviews and processes.
The ERU was formed in tandem with the Frederick City Police Department's (FPD) 2020 expansion of their BWC program.  Today, FPD has approximately 98 BWCs deployed and is expecting that number to grow very soon to closer to 150. Additionally, the Maryland State Police in Frederick currently operate approximately 18 vehicles equipped with dash cameras.  Combined, these devices produce on average 225 hours of raw footage per month that must be obtained and reviewed by our office.  The review process for any given case takes on average about two times the total length of the raw footage to be completed.  This means that each ERU investigator has the capacity to process and review about 4 hours of raw footage per day.
Earlier this year, the Maryland General Assembly passed a series of bills focused on the criminal justice system including the requirement that virtually all Maryland law enforcement be equipped with BWCs by certain dates.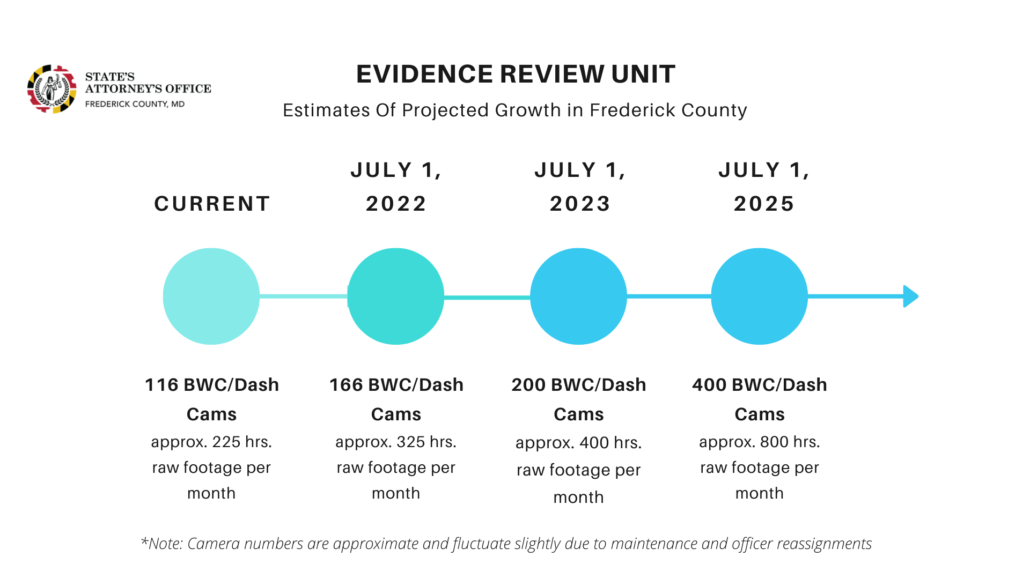 Pursuant to this newly enacted legislation, the Maryland State Police is required to equip, at a minimum, all of its patrol troopers with cameras by July 1, 2023. For the Frederick Barrack, that will amount to approximately 35 cameras added in the next two years.
Local departments, including the Frederick County Sheriff's Office, Thurmont Police Department, and Brunswick Police Department, have until July 1, 2025 to fully implement their BWC programs.  Based on a review of current roster assignments, it is anticipated that the Frederick County Sheriff's Office will equip between 150-175 deputies while Thurmont Police will equip approximately 10 and Brunswick Police will equip approximately 15.  Pilot programs are expected to be implemented by these departments well in advance of the deadline date.
The future demands of body-worn camera review, rapid increases in deployment, and additional needs for digital evidence review will necessitate additional staffing within the ERU. By 2023, we project that at least one additional investigator will be needed as a result of the July 1, 2023 deadline for MSP to fully implement their BWC program. By 2025, we expect the unit will need to grow even further as approximately 400 police officers within the County are expected to be equipped by this time.
https://statesattorney.us/wp-content/uploads/2018/06/FCSAO-logo.png
0
0
William Cockey
https://statesattorney.us/wp-content/uploads/2018/06/FCSAO-logo.png
William Cockey
2021-09-13 11:33:26
2021-09-13 11:43:15
EVIDENCE REVIEW UNIT MARKS 1 YEAR MILESTONE: State body camera mandate will necessitate expansion in coming years