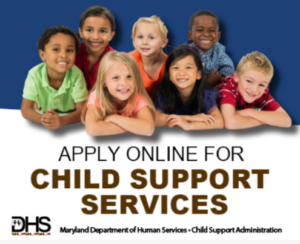 The Child Support Division of the State's Attorney's Office represents the State of Maryland with regard to establishing, modifying, and enforcing child support obligations.
Parents interested in receiving child support services may apply at the Frederick County Department of Social Services located at 1888 N. Market Street, Frederick, MD 21701 from 8:00 am to 4:30 pm on weekdays. Applications may also be obtained and submitted online at http://dhs.maryland.gov/child-support-services/.
Parents seeking legal advice relating to child support issues may visit the Circuit Court Family Law Self Help Center located at 100 W. Patrick Street, Frederick, MD 21701 on Tuesdays, Wednesdays, and Thursdays from 9:00 am to noon.