FREDERICK, MD – Child Support Awareness Month is nationally recognized each year during the month of August to focus on the importance of providing financial support for children.  It also recognizes the child support professionals who are committed to making a difference in the lives of children.
"Every child has the right to receive support from both parents even if the parents are divorced, separated, or were never married.  The Maryland Child Support Administration works with both parents to provide the financial, medical and emotional support their children need to grow and thrive." (Maryland DHR website)
The Frederick County Department of Social Services Child Support Administration (FCDSS) provides services to both non-custodial and custodial parents, which include the establishment of paternity, establishment of child support, collection and disbursement of child support, modification and enforcement of child support orders.  For more than 20 years, the Frederick County State's Attorney's Office (SAO) has partnered with FCDSS to provide legal services for child support matters in Frederick County.
The Frederick County SAO is responsible for reviewing all cases referred to them by FCDSS in which a parent or caretaker has requested services to determine whether a case should be filed for paternity, support, modification or enforcement.  When appropriate, the SAO will file the pleadings in Court and represent the Department at any hearings on the matter.
COVID-19 has created many challenges to FCDSS and FCSAO in achieving this purpose.  For more than 9 months, the Courts were not hearing any child support matters due to COVID-19.  During that time, the FCSAO worked closely with FCDSS to streamline our electronic referral of cases so that we could continue to process and file cases even while the Court were shutdown.  In addition, FCSAO worked very hard to conduct out of court telephonic settlement conferences to try to resolve child support establishment and modification cases without hearings.  We are proud to say that we do not have any backlog of establishment or modification cases due to the shutdown of the Courts and we are finally able to resume the filing of contempt proceedings against non-custodial parents who are not paying their child support.  We have met the goals and expectations set for us by the State of Maryland despite the shutdown.
If you are in need of child support services, please go to the Maryland Department of Human Services Child Support Services website at www.dhs.maryland.gov/child-support-services/ .  You can apply for services on line.  You can also find information on how to fill out a request for modification of your child support at this website.
If you need to make a child support payment you can do so online at www.md.smartchildsupport.com or by calling 884-324-3855.
If you have a child support case and you have questions you can call the Department of Social Services at 1-800-332-6347 or email at fcdss.childsupport@maryland.gov.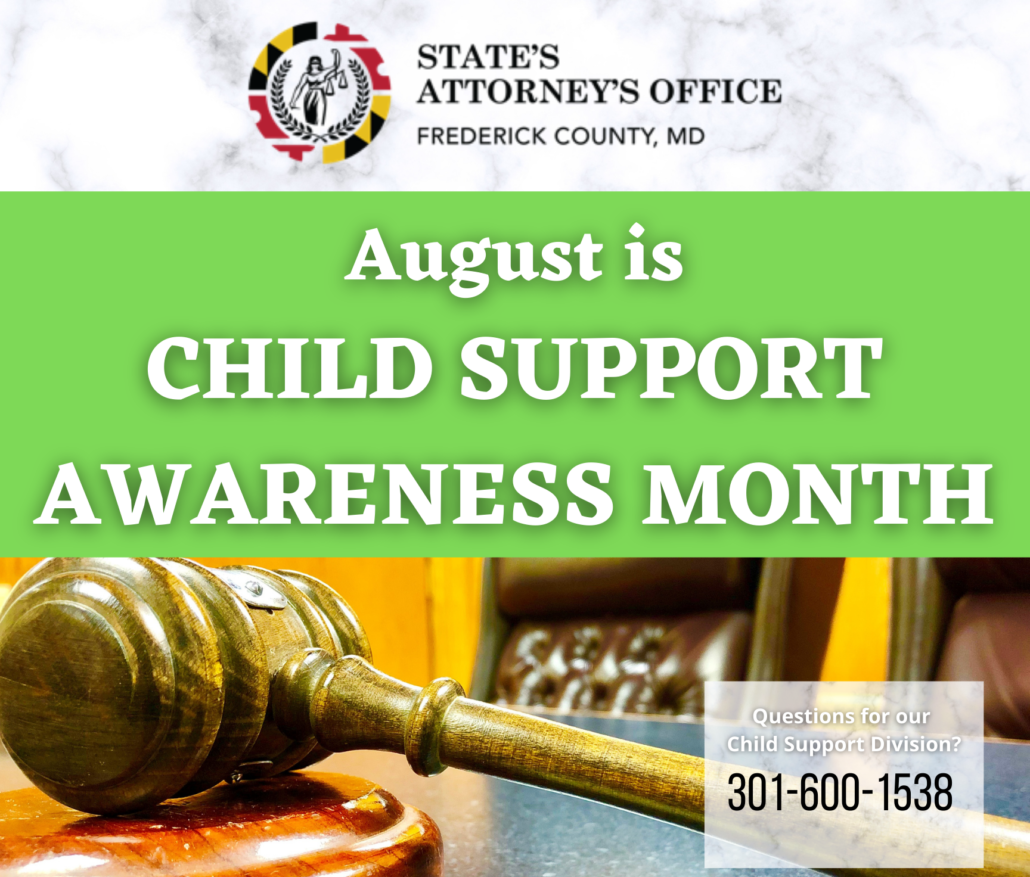 https://statesattorney.us/wp-content/uploads/2018/06/FCSAO-logo.png
0
0
William Cockey
https://statesattorney.us/wp-content/uploads/2018/06/FCSAO-logo.png
William Cockey
2021-08-18 14:41:53
2021-08-18 15:48:13
AUGUST IS CHILD SUPPORT AWARENESS MONTH